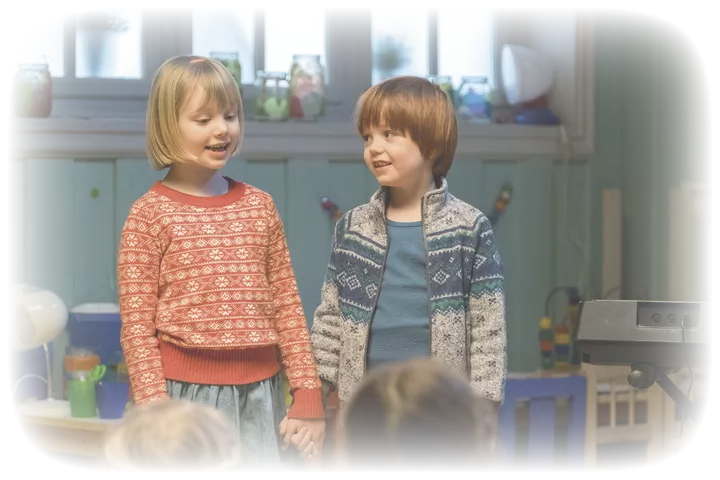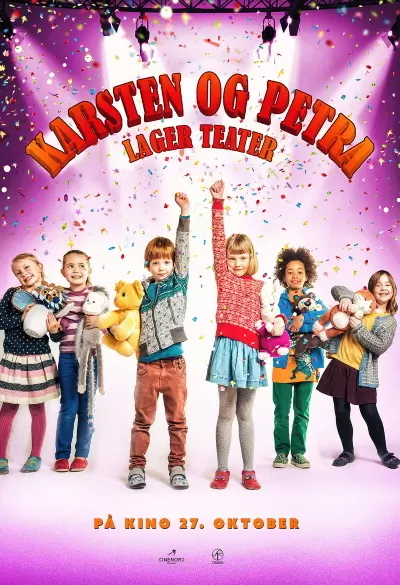 Karsten og Petra lager teater
Karsten and Petra go to the theater with the kindergarten. After seeing Tornerose, Petra wants to learn more about theater and Karsten becomes interested in lighting. After an exciting meeting with the theater puppets, Løveungen and Frøken Kanin want to become actors.
In kindergarten, Karsten and Petra hear about an orphanage in India that does not have electricity. The children get a bright idea: They want to raise money for the orphanage by making a theatrical performance about candlesticks that bring light into the darkness. Now begins the process of creating screenplays, songs, dances, costumes and scenography. And best of all - all the stuffed animals are allowed to take part in the theater performance!
Children and parents work hard to get the show ready on time. But the problems pile up. They need a bigger room, and not least, an audience! And what are they going to do when the accompanying spot that Karsten provided short-circuits all the lights? The biggest challenge arises when Petra wiggles her ankle and can not play the main role as a bright mother. Dare Karsten take the task on the fly, without having practiced? Fortunately, the help comes from an unexpected source.
The film is not playable outside of Norway
| | |
| --- | --- |
| Category: | Feature Film |
| Genre: | Kids |
| Actors: | Oliver Dahl, Alba Ørbech-Nilssen, Janne Formoe, Markus Tønseth, Hilde Lyrån, Ivar Nørve, Anna Celine Bredal, Tone Johnsen, Sigrun Enge, Wilhelm Støylen |
| Author: | Tor Åge Bringsværd |
| Director: | Aurora Langaas Gossé, Arne Lindtner Næss |
| Producer: | Silje Hopland Eik, Dyveke Bjørkly Graver, Tina Winholt |
| Photo: | Marton Miklauzic |
| Music: | Lars Kilevold |
| Script: | Arne Lindtner Næss |
| Country: | Norway |
| Language: | Norwegian |