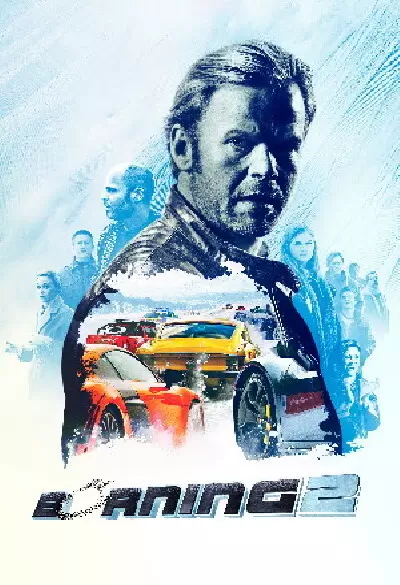 Børning 2
When Roy Gundersen is released from prison after two years for participating in an illegal street race, he is determined to get his life back on track. He has reached the bottom, gone bankrupt, and to improve his life and be a good role model for his daughter Nina, he starts working at a gas station.
When Roy's pregnant girlfriend arranges an "out of jail" party, some of his old enemies show up and challenge him to join a new race.The race will start in Fosnavåg and then go through Sweden and Finland before it ends in Murmansk. Roy refuses. He is making an effort to stay on the straight and narrow, and would rather spend his time on Nina than drive a car. But when Roy finds out that Nina will be in the race with her boyfriend Charlie, he must try to stop her.
The race becomes wild and difficult, over mountains, slick roads, and icy lakes. There will also be a hunt between the drivers and the police, who will do everything they can to stop the race.
The film is not playable outside of Norway
| | |
| --- | --- |
| Category: | Feature Film |
| Genre: | Action |
| Actors: | Anders Baasmo Christiansen, Ida Husøy, Jonas Hoff Oftebro, Vegar Hoel, Stig Frode Henriksen, Sven Nordin, Otto Jespersen, Henrik Mestad, Mikkel Gaup, Arthur Berning, Jenny Skavlan, Robert Skjærstad, Marie Blokhus, Ravdeep Singh Bajwa, Fredrik Skogsrud, Mats Mogeland, Lisa Uhlen Ryssevik, Simon Norrthon, Anders Rydning, Kristo Salminen, Lise Karlsnes, Emil Lystvedt Berntsen, Geir Schau, Thomas Ryste, Tori-Lena Eikanger, Jade Francis Haj, Frode Haarstad |
| Director: | Hallvard Bræin, Askild Edvardsen |
| Producer: | John M. Jacobsen, Marcus B. Brodersen |
| Music: | Magnus Beite |
| Country: | Norway |
| Language: | Norwegian |