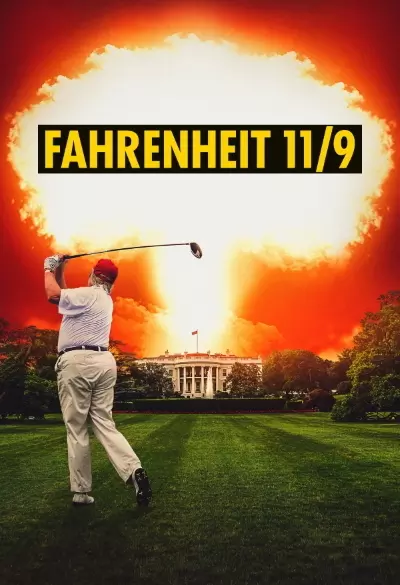 Fahrenheit 11/9
9/11/16 was Donald Trump elected the 45th President of the United States. In "Fahrenheit 11/9," the well-known documentary filmmaker Michael Moore asks how this could have happen.
American democracy is at risk, sounds the message in the documentary that Moore himself has referred to as the beginning of the end of Trump's presidency. The title of the movie plays on the date Trump was announced as the US's next president, and is at the same time a nod to a former Moore documentary, "Fahrenheit 9/11," where he looked at what had happened in the US after the 9/11 terrorist attack.
Michael Moore is one of today's most profiled documentary filmmakers and is also the man behind films such as "Bowling for Columbine," "Sicko" and "Where to Invade Next." Social criticism, especially directed at the modern United States, is a pervasive feature of his work. Moore can address serious, topical issues with a strikingly rare satirical sting.
The film is not playable outside of Norway
| | |
| --- | --- |
| Category: | Documentary |
| Genre: | Documentary |
| Actors: | Michael Moore, Donald Trump, Joe Biden, Roseanne Barr, Stephen K. Bannon, Roger Ailes, Alexandria Ocasio-Cortez, Brooke Baldwin, Ashleigh Banfield, Joy Behar, David Hogg, Kim Jong-un, Barack Obama, Michelle Obama, Mike Pence, Vladimir Putin, Bernie Sanders, Ivanka Trump, Melania Trump, Barbara Walters, George Clooney, Bill Clinton, Hillary Clinton, George W. Bush, Nancy Pelosi, Chuck Schumer, Barron Trump, Eric Trump, Paul Ryan, Jared Kushner, Rodrigo Duterte, Ted Cruz, Roger Stone, Gwen Stefani, Tiffany Trump, Jr., Jeb Bush, Rick Snyder, Xi Jinping, Ruth Bader Ginsburg, John R. Bolton, Donald Trump III |
| Director: | Luke Geissbuhler, Michael Moore, Jayme Roy |
| Producer: | Michael Moore, Meghan O'Hara, Tia Lessin, Carl Deal, Basel Hamdan |
| Country: | USA |
| Language: | English |