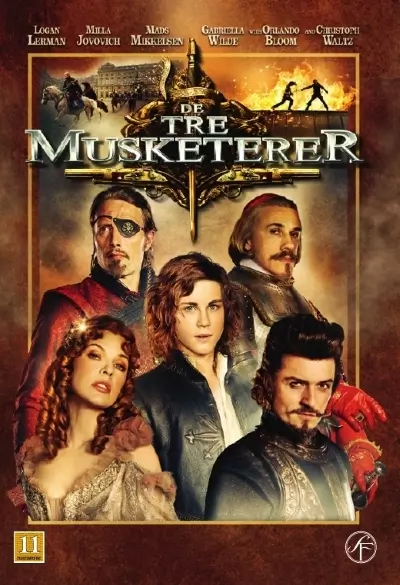 The Three Musketeers
Magnificent remake of the world famous story and classic book by Alexandre Dumas.
In the roles we meet Christopher Waltz, Orlando Bloom, Milla Jovovich and Mads Mikkelsen. The once famous musketeers Athos, Porthos and Aramis have retired and are living their lives outside the limelight. But when the young and adventurous D'Artagnan comes to Paris to fulfill his dream of becoming a musketeer, they are drawn into the most difficult mission ever - to help France avoid war against England.
Young King Louis's closest adviser Cardinal Richelieu (Waltz) is doing everything to conquer the throne of the country. By stealing Queen Anne's jewels and handing them over to the Duke of Buckingham (Bloom), he creates a rumor that the Queen of France is unfaithful. Hoping that the young King Louis will declare war on England, counselor Ruchelieu envisions that the French people in wartime will demand a stronger leader - Richelieu himself. Thus, the three musketeers and their new apprentice must do the impossible.
They must enter the impenetrable Tower of London and steal the jewels before the big ball goes off and the theft is discovered.
The film is not playable outside of Norway
| | |
| --- | --- |
| Original title: | De Tre Musketerer |
| Category: | Feature Film |
| Genre: | Action, adventure |
| Actors: | Milla Jovovich, Orlando Bloom, Logan Lerman, Matthew MacFadyen, Christoph Waltz, Mads Mikkelsen, Ray Stevenson |
| Director: | Paul W.S. Anderson |
| Producer: | Paul W.S. Anderson, Jeremy Bolt, Robert Kulzer |
| Script: | Alex Litvak, Andrew Davies |
| Country: | France, United Kingdom, Germany, USA |
| Language: | English |